Libraries
Libraries are used to add and manage stencils stored within the application and for adding these objects to a drawing. They are managed and controlled through the Libraries Portion of the Sidebar located on the right hand side of the main application window. This section appears as shown below.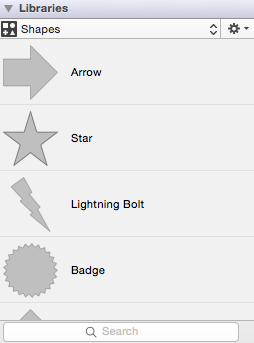 A search option is provided at the bottom of this sidebar section to find a specific stencil within a selected library.
Click on the corresponding Libraries Menu name to learn more about what the option does.
| Icon | Function Name | Description |
| --- | --- | --- |
| | Library Selection Menu | The Library Selection Menu can be used to select a specific library for stencil additions, library modifications, or drawing stencil insertion. |
| | Libraries Settings Menu | The Libraries Settings Menu contains options for adding or deleting stencils and library manipulation. |
---
Table of contents
---